Why introduce kids to pets?
Pet ownership can be more than just fun – it can teach children lessons about responsibility, empathy and friendship. Plus, can also be a bond that lasts a lifetime, creating treasured memories for years to come. 
Adopting a dog
A dog can be a delight for children and grown-ups of all ages. Have a talk with your children about some simple dos and don'ts about dog body language and behaviour before introductions. This will ensure smooth sailing for all involved.
Dos for adopting a dog  
Do supervise your kids and dog, especially in the early days.
Do choose a dog that is relaxed, gentle and friendly towards children. Good family breeds include labradors, golden retrievers, labradoodles and greyhounds – but a well-chosen rescue dog can be fantastic too.
Do puppy-proof your house. Find out more about puppy proofing here.
Do involve your children in puppy training – this is empowering for kids! 
Do teach your children about dog body language. When meeting a new dog first hold out a downward fist for the dog to sniff. When you see a positive signal (such as tail wagging) allow your child to stroke the dog's neck, back or chin. 
Do give your dog a safe room or space where they can go and rest between play.
Do have fun with your newly adopted dog. Positive interactions are the best relationship builders. Let your kids give your dog the odd healthy treat when they are well-behaved. Doing so will ensure your dog feels great about being around kids even more.
Do ensure that you vaccinate, neuter, de-worm and de-flea your new dog.
Do teach your child some tricks using treats and always be ready to step in to avoid your pooch jumping up. Each dog has unique personality traits, so talk to your child about these using your dog's name.
Don'ts for adopting a dog
Don't force a dog to interact. Likewise, never hold them still, or allow kids to pull tails, tease or hurt them. Accidents can happen of course, but it's best to avoid too much rough play!
Don't force a child to pat a dog. Instead, step back and talk to your kid about a dog's body language, and introduce a slow, supervised introduction.
Don't approach an unknown dog, unless the owner is present and can supervise a safe introduction.
Adopting a cat
A cat can be a great companion for the right family. They are clean, playful, low maintenance and very adaptable to living in different home situations. However, they can also be quieter than dogs and a little nervous. As such, cats may be more suited to a calmer household with older children.
Do's for adopting a cat
Like a dog, do involve your kids in supervised training and caring for your new cat. 
Do kitten-proof your house
Do choose a relaxed, outgoing cat. Shorthaired rescue moggies make great pets.
Do teach your children to be gentle when stroking their new cat in the direction of their fur growth.
Do allow your cat to have their own space. This should be in a quiet location with fresh litter, water and food. 
Do allow your cat places where they can jump up high if they desire.
Do ensure that you vaccinate, neuter, de-worm and de-flea your new cat.
Don'ts for adopting a cat
Don't trap a newly adopted cat with young kids. Cats love to have quiet time on their terms so give them an escape route and an undisturbed napping spot.
Don't let your kids near kitty litter as the germs in cat faeces can be harmful. We suggest making this a grown-up job. 
Don't let your kids poke, pull tails or tease – gentle is best and again, supervision is the key.
Don't let your cat sleep on your child's bed, especially if your child is under the age of three. This is in case of accidental smothering, fleas or loose fur.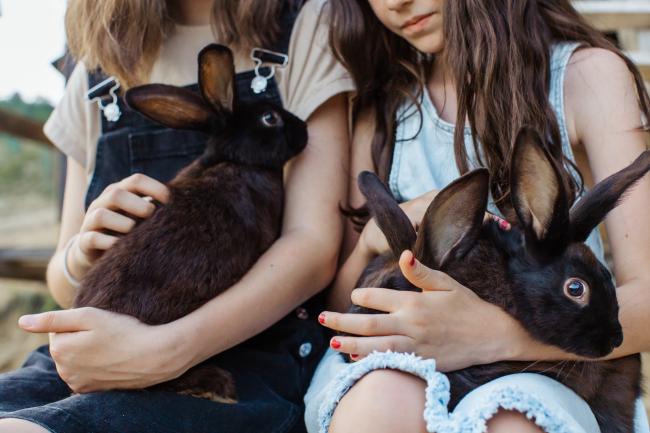 Other pets that are great for kids
There are plenty of other great pets to introduce to kids aside from cats and dogs! Some suggestions include – 
Aviary birds, such as canaries parakeets or budgerigars
Guinea pigs
Rabbits
Fish – goldfish are a great choice and a lot easier to keep than tropical varieties.
Sea monkeys
Sea snails
Ferrets
If you are still not ready to get a pet, apply on Pawshake as a pet sitter! This is a great way to teach your kids about all the responsibilities of pet ownership. Just remember, you are the main pet sitter and hold responsibility for the pet, not your children. As such, all Pawshake pet sitters must be at least 18 years old to keep everyone safe.